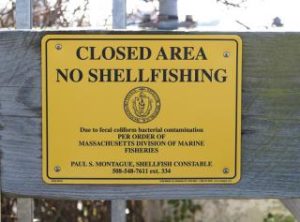 DENNIS – The Association to Preserve Cape Cod says the recent closure of shellfish beds on Cape Cod highlight the need for better stormwater management practices.
Torrential rainfall on July 7 brought more than 4 inches of rain in a matter of hours to parts of the Cape, resulting in an emergency and precautionary moratorium on shellfishing in six towns on the Upper and Mid-Cape.
The ban was lifted last Wednesday.
"It was a temporary impact but it was a very telling one about why it is that some of these environmental regulations are important to public health and to the economy and the environment in general," said Andrew Gottlieb, the Executive Director of the Association to Preserve Cape Cod.
"It's a loss of recreational opportunities. It's a loss for the commercial shellfisherman whose livelihoods depend on it. It sends a bad signal about water quality on Cape Cod in general to the tourists," Gottlieb said.
The group has criticized a decision by the federal Environmental Protection Agency to delay the implementation of an updated stormwater permit for Massachusetts municipalities, including most of the Cape. The new permit was set to go into effect on July 1.
"Failing to adequately address the impacts of stormwater on our water resources has very real and serious implications for us," Gottlieb said. "Delaying this permit is a move in the wrong direction."
The changes to the permit were set to place increased regulations on towns when it comes to stormwater discharges.