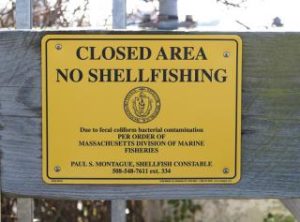 DENNIS – The Association to Preserve Cape Cod is using the recent closure of shellfish growing areas in the region as an opportunity to call for more effective storm-water management practices on Cape and throughout the Commonwealth.
The state Division of Marine Fisheries announced the closing of shellfish beds in Sandwich, Barnstable, Yarmouth, Dennis, Brewster, Chatham, Orleans, and Eastham due to concerns over contaminants from storm-water runoff following last Friday's heavy rainstorm.
"It's very evident from the water quality issues we are experiencing on the Cape that we need to improve how we manage storm-water," said Andrew Gottlileb, APCC's executive director, "APCC is disappointed in the EPA's decision to delay implementation of the MS4 permit. The new regulations in the permit are a significant step forward in the protection of our water resources."
The APCC says that implementing precautionary methods found in the Massachusetts Storm-water Permit, currently being held up by the U.S. Environmental Protection Agency would help to protect Cape communities.
Gottlieb says that these issues have a wide ranging impact on the Cape, "Closure of shellfish beds due to water quality makes it harder for commercial fishermen to make a living, negatively impacts the regional economy and prevents residents from simply walking out in the water and harvesting their dinner. Each time water quality results in a closure, a little bit of old Cape Cod is lost, and it doesn't have to be that way."
Untreated storm runoff carries contaminants including bacteria which lead to closures of both shellfish beds and beaches. Additionally, Nutrients, including lawn fertilizers, can get caught up in the runoff and lead to further degradation of water quality by contributing to nutrient loading in the Cape's ponds, streams, and coastal waters.
"The main issue is that storm-water carries with it a number of pollutants. It carries bacteria, it carries oil and grease, it carries nutrients that wash off from fertilizers or animal waste, and we've done a particularly poor job protecting our water resources from the impacts of storm-water," said Gottlieb.
He continued, "The public policy objective has been to get the water off the street as quickly as possible. Typically the best place to put it, so that it doesn't pool up, is in the nearest water body. As a result we're directing an enormous amount of pollution every time it rains directly into our water ways and it's causing us to lose access to shellfish and recreation and causing a significant portion of our water quality problems."
A nonprofit environmental organization, the Association to Preserve Cape Cod has been working for nearly 30 years for the adoption of laws, policies and programs designed protect the Cape's natural resources.
By DAVID BEATTY, CapeCod.com NewsCenter