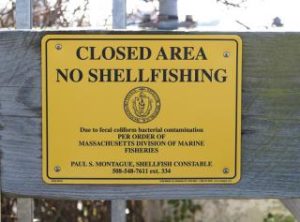 ORLEANS – All of the Nauset Estuary in Orleans has been closed to shellfishing after a breakout of red tide.
The town implemented the closure at sunset on Wednesday and says it will be in place until further notice.
Parts of the Pleasant Bay Estuary have also been closed to shellfishing, including Meetinghouse Pond north of the floating docks at Nauset Marine East, Paw Wah Pond, and Pochet Creek from Pochet Neck to Nauset Beach.
Sections of Lonnie's Pond, Quanset Pond, and Little Quanset Pond are open for taking for those with family permits only.
In Cape Cod Bay, Rock Harbor and Namskaket and Little Namskaket Creeks are closed to all shellfishing inside of the lines drawn across the mouth of each.